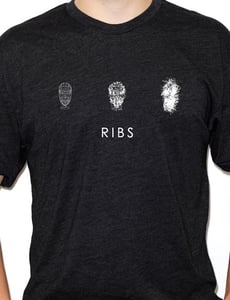 $

20.00
(Free shipping in the US)
The first ever RIBS shirt is here. We printed a super-limited run of these to fund our Spring 2011 tour [via cold hard ca$h] and there are still a few left. There will only be 100 of these puppies made, like, ever.

Printed on super soft, ultra comfortable Poly-Cotton blend American Apparel 50/50 shirts.

Heather Black (click image to enlarge).
About the design:
This shirt is a visual rendering of "Brains Out." With the help of IBUILDWORLDS, we built a program that distorts a three-dimensional object using sound. We ran the audio for the song through a wireframe skull and this design was the result.
All sizes except medium SOLD OUT